BURRIS HOTEL IN ELDON INSPIRED "PETTICOAT JUNCTION" TV SERIES.....
By Peggy Smith Hake
At the turn of the 20th century, the Burris Hotel (once called the Rock Island Hotel), was a hustling, bustling hotel in Eldon, located near the railroad tracks of the Rock Island Line
(photo 01)
.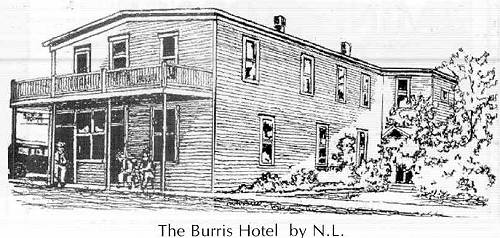 01 Burris Hotel
Willis Burris (born 1854) and Martha Bowlin (born 1862) operated this popular hotel. They married in Miller County circa 1879. Their nine children spent many happy days there as they grew up keeping watch on the daily trains and passengers who were transported across Missouri with stops in Eldon.
The children included:
1. Alice Elizabeth Burris b. Oct 1883 m. Benjamin Barth
2. Delaney R. Burris b. Sep 1887
3. Opal A. Burris b. Oct 1889
4. Otis E. Burris b. Jan 1892
5. Anna E. Burris b. Feb 1894
6. Wallace M. Burris b. Apr 1899

Three other children were born after 1900.
Willis and Martha had lived in the Osage River country near Tuscumbia for a number of years but decided to move to Saline Township after their children were older. They operated three different hotels in Eldon over a period of years. One was the Godfrey Hotel at Second and Maple Streets; the Burris Hotel No. One at Mill Street and Old Highway 52; and the Rock Island/Burris Hotel near the railroad depot.
One of their daughters, Alice Elizabeth, grew up experiencing the hotel life in a small railroad town of Central Missouri. When Alice was grown, she moved to St. Louis where she met and married Benjamin Barth in 1908. Alice and Benjamin had a daughter, Ruth Margaret. As a young woman, Ruth moved to the Kansas City area and was employed by KMBC Radio. While there, Ruth met and married a young man from Independence, Missouri named Paul Henning
(photo 02)
.
02 Paul Henning
The couple moved to the west coast in later years and Paul became involved in script writing for the movies and later for television.
In the 1960s, Paul Henning was inspired to write the television series called "Petticoat Junction", a down-home, popular series that American audiences loved. Paul's 'Shady Rest Hotel' in the show was patterned after the hotel owned by Ruth's grandparents, the Burris/Rock Island Hotel in Eldon, Missouri.
Ruth's mother, Alice Elizabeth Burris-Barth, had related to her so many wonderful stories of her life growing up in a small town near the Rock Island Line. Paul Henning, being a talented writer, brought his mother-in-law's memories to life and shared them with America. Paul and Ruth's daughter Linda Kaye Henning, the great granddaughter of Willis and Martha (Bowlin) Burris, portrayed one of the TV daughters in the "Petticoat Junction" series near the mythical town of Hooterville and greeted the daily train called the Cannonball which made trips through the town each day.
When Benjamin and Alice (Burris) Barth died, they were brought back home and buried in the Burris family cemetery plot in the Tuscumbia Cemetery. There are four generations of the Burris family there. The progenitor of this old Miller County family was Mastin Burris and his wife, Elizabeth. When Mastin died in 1844, he was placed in the family plot that was known as the Burris Family Cemetery located in the southeast corner of today's Tuscumbia Cemetery. Mastin's son, Miles Burris, had bought two town lots on the hill at Tuscumbia before 1844 from Isaac Goodrich for a family burial ground. Paul and Ruth (Barth) Henning had a rock wall erected around the gravesites of Ruth's ancestors after her mother's death in 1969.
Ruth Margaret (Barth) Henning died in 2002 and was placed at Tuscumbia Cemetery with her other family members. Her husband, Paul Henning, lived until 2005 and was also brought back to Miller County for burial. They were survived by 3 children: Carol Alice Henning, Linda Kaye Henning, and Paul Anthony Henning.
The old Burris Hotel, sitting for many years beside the Rock Island railroad in Eldon was torn down a few years ago, but the memories live on in each re-run of the "Petticoat Junction" television show.
NOTE: Paul Henning also wrote and produced 2 other popular shows for television including "The Beverly Hillbillies" and "Green Acres". The American audiences loved these down-home, small town shows and they can still be seen in re-runs on cable television networks.